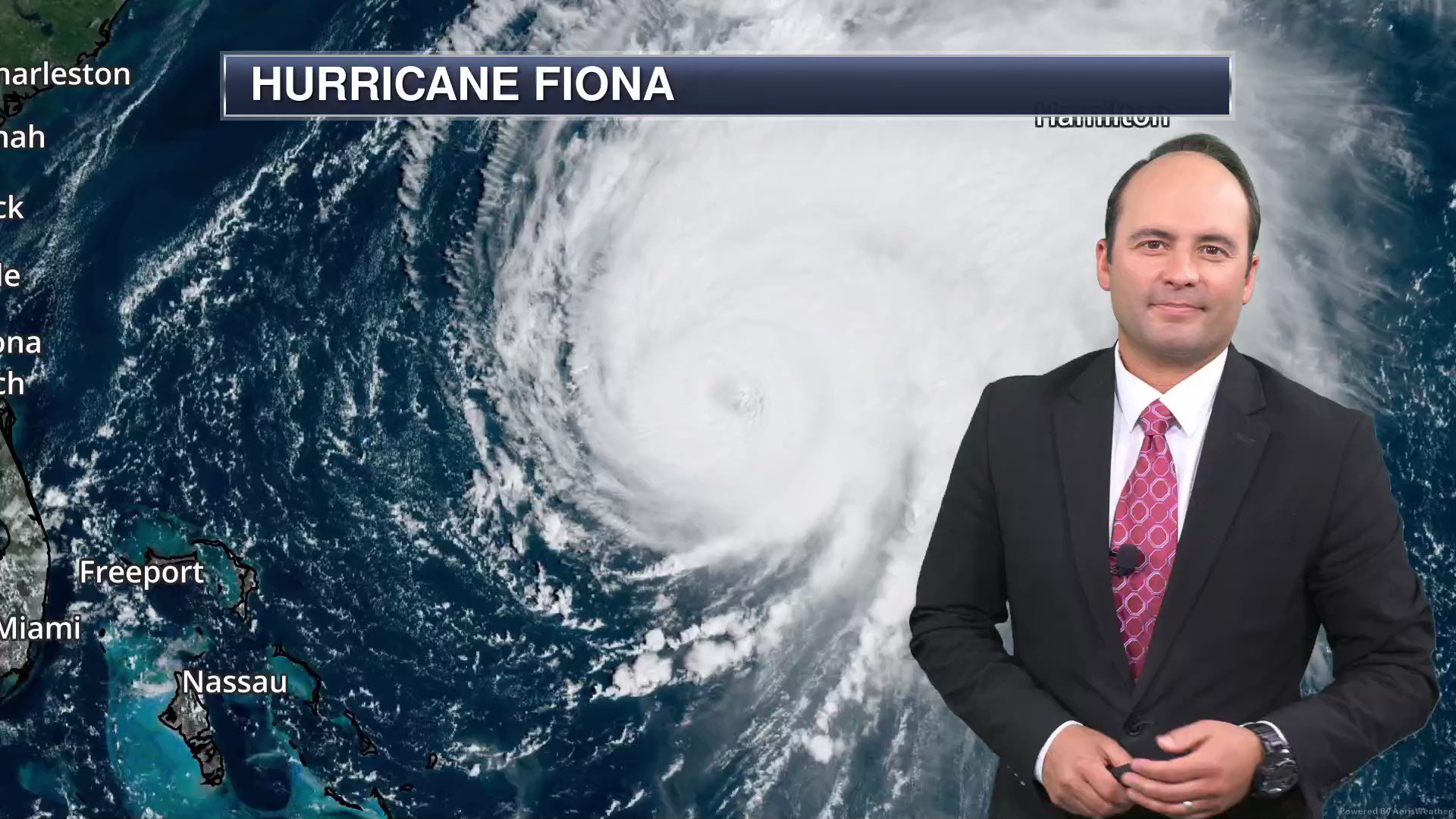 .@WCKitchen teams following #FionaHurricane we are in Dominican Republic, Puerto Rico USA, Bermuda and Turks and Caicos….Mobilizing in Nova Scotia and getting ready in Florida….#ChefsForTheWorld we will be next to the people. I promise you that!.
Models have only doubled down on now Major Hurricane #Fiona transitioning into an extratropical cyclone and hitting Nova Scotia as one if not the most violent storm in Canadian history. Devastating 100+ mph winds, life-threatening storm surge, and severe flooding are all likely..

Hurricane Fiona is about to slam Nova Scotia, Canada 🇨🇦 with ferocious intensity. This could be the deepest cyclone to landfall in Canada on record. This storm should not to be underestimated. Latest official warnings:.
The ECMWF model forecast of extratropical transition of #HurricaneFiona is the most extreme weather system for Canada on record ... unprecedented by a mile. 920 hPa central pressure is like a Cat 5 hurricane. Winds will cause widespread damage to Nova Scotia..
ECCC Canadian Hurricane Centre
☑
Here is the latest update on #Hurricane #Fiona. Weather models continue to indicate that Fiona will make landfall in eastern Nova Scotia early Saturday morning and will produce very heavy rainfall, severe winds and storm surge. Read the bulletins at:.
ECCC Canadian Hurricane Centre
☑
Here is the latest update on #Hurricane #Fiona. Weather models continue to indicate that Fiona will make landfall in eastern Nova Scotia early Saturday morning and will produce very heavy rainfall, severe winds and storm surge..
RevDaniel
Thinking of friends in Nova Scotia and Prince Edward Island as they brace for Hurricane Fiona..
🐋🍁Cheryl 🍁🐢🍁CANADA🦦🦫🐬
Power crews from Quebec, Ontario, New Brunswick & Maine are in Nova Scotia to help restore power from Hurricane Fiona. The Federal govt. is also sending the 5th Regiment Division of the Canadian Miliary fr. CFB Gagetown to help with clean up and restoration. #NovaScotia #Fiona.

Stan Collins
So far we have a sunny day here this morning but very high winds. That said, the storm has plowed its way through Nova Scotia, PEI, the Magdalen Islands, and south west Newfoundland leaving a significant amount of damage in its wake. We will see what happens here later today..

Tareq Hadhad
Well, Fiona visited Antigonish last night, and stayed there for while with historic winds. So many trees have fallen and caused damages. My family are doing well and staying safe, hope everyone is ok in Antigonish and across Nova Scotia. Thinking of everyone 🙏.
ECCC Canadian Hurricane Centre
☑
Landfall is imminent with Post-tropical #Fiona just off of the eastern coast of Guysborough County in Nova Scotia. The 3AM ADT details are here:.
Loving all the Larch, Fir, and Spruce in Nova Scotia. Way better than Palm trees. Wish I had my shovel to dig one up and take it home to bonsai it #fiona #canada.

Preparations are underway for Hurricane #Fiona in Nova Scotia - the storm will be a big one and locals are ready..
Bernard Roulinski
A convoy of power trucks from Quebec on their way to Nova Scotia to help out with the massive power outages. This is a real convoy with a real purpose. Take note #FreeDumbConvoy.

A historic storm but definitely not a surprise. Life-saving information days ago thanks to the advance of numerical weather prediction. Look at the date of this tweet. Fiona was still over 2,500km miles south of Nova Scotia..
Roy g biv
Boston should refuse the 2022 Christmas Tree from the kind people of Halifax in recognition of the 1917 Halifax Disaster and, instead, send some help north to the people of Nova Scotia. Renew the affection. cc: @universalhub.
Hurricane Fiona is forecast to strike eastern Canada as a powerful hurricane force post-tropical storm, with officials in Nova Scotia telling residents they should be preparing today and bracing for impact..

Experts say people should know what food can be kept and what should be thrown out in the event of a significant power outage..

Halifax Fire News
The Province of Nova Scotia has issued the following Emergency Alert:.

Authorities in eastern Canada are warning residents to be ready Friday for a historic storm as Hurricane Fiona approaches. In Nova Scotia, where Fiona is forecast to make landfall early Sat, residents are advised to prepare for possible power outages..
Eddie Cooper🧡🇨🇦🧡🇺🇦🏳️‍🌈
I hope all of our friends in Nova Scotia, Prince Edward Island and Newfoundland and Labrador are all buttoned down and safe as the storm rolls into the region. Stay safe! You are all in our thoughts and hearts!.
Bobby 2 🇨🇦
Fairly unscathed here in Moncton, New Brunswick 🙏 Good luck to all in Nova Scotia and elsewhere effected by Fiona.
Hurricane #Fiona currently has a pressure of 932mb. This is the lowest pressure for a hurricane this far north in the open Atlantic (excluding Gulf of Mexico). Several computer models show Fiona making landfall in Nova Scotia as one of the strongest storms on record..
Craig Eagles
Wishing my family and friends in Nova Scotia and PEI all the best, stay safe everyone, #HurricaneFiona.
Max Olson
Heading to Nova Scotia for #Fiona then probably immediately flipping around and heading for wherever 98L end up. Tis the season. 🇨🇦.

XR Cambridge
Great thread on impacts to expect from hurricane Fiona as it bears down on Nova Scotia..
Noah
@halifaxnoise Nova Scotia Power's website is reporting at least 300,003 customers without power as of 1:54 AM. Their website says they serve "more than 525,000." Safe to say over half of the province is without power tonight. #Fiona.
Kalin Mitchell
3 AM update from the NHC. ...HURRICANE-FORCE WINDS SPREADING ACROSS PORTIONS OF EASTERN NOVA SCOTIA AS THE CENTER OF FIONA Approaches, so no implied/declared landfall yet but it looks on the doorstep of Canso..
Luc Mtl 🇨🇦 ⚜️🌻
#Fiona #HurricaneFiona eye contacting the coast of Nova Scotia now. Stay safe everyone..
The Beer Maven
Hurricane update. I'm on the floor by my bed. I feel safest here. The wind is too intense to sleep as it's shaking the roof and walls like mad. I'm going to try & sleep on the floor. Feeling so empathetic for my Nova Scotia family right now. As we're in NB #HurricaneFiona.