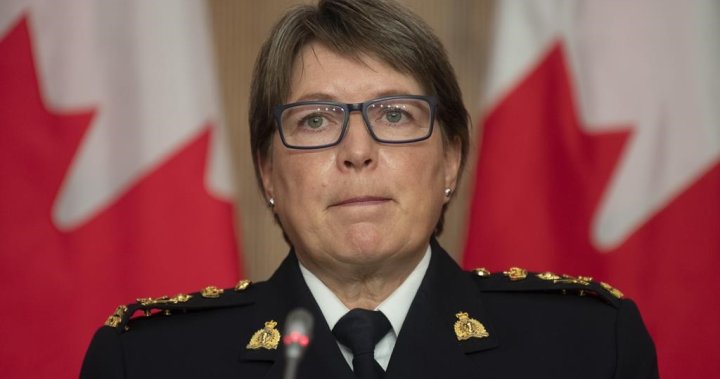 Is there simply no level of scandal that can bring the @JustinTrudeau government down? Every week something happens that in normal times would force Parliamentary dissolution.
These people are sick. RCMP's Lucki "made a promise" to Minister Blair & PMO to "leverage the mass murders of April 18/19, 2020 to get a gun control law passed"—Halifax Examiner..
We need emergency committee hearings to investigate the Halifax Examiner allegations that the RCMP boss promised PMO to "leverage" mass murder for Liberal political gain. The victims families deserve the truth—as do all Canadians..

Under normal circumstances there is no way that @JustinTrudeau, @BillBlair or RCMP Commissioner Brenda Lucki would survive the week. They engaged in political interference in a police investigation. They used a massacre for political goals. They need to go.
It sounds like before the bodies had even cooled after the worst mass shooting in Canadian history, the RCMP commissioner was meddling with the investigation to see how it could benefit Trudeau. Heads had better roll over this..
If true, this is damning. The allegations are that the commissioner for the RCMP sought to interfere in an active criminal investigation at the behest of the Prime Minister's office and Public Safety to advance Liberal gun control announcement..
Conservatives want Bill Blair and others investigated over RCMP scandal via @truenorthcentre.
How much longer can the Trudeau government avoid accountability for its continual stream of scandals? Watch The @AndrewLawton Show: #cdnpoli.

Morning Update: MPs vote to call Brenda Lucki to testify on allegations of political interference in RCMP's shooting investigation.
Suzanne Allen🇨🇦
Truth must be heard for Canadians to have credibility and trust in the RCMP. There must be an investigation or inquiry. Bill Blair faces heated accusations of political interference by Liberals in mass shooting - National Post.
Former RCMP commissioner Bob Paulson and other retired Mounties are defending the integrity of Superintendent Darren Campbell, who has alleged that current Commissioner Brenda Lucki interfered in the .
Unreal: the RCMP posted a 132-page set of notes on its website, but removed 4 pages of notes that cover the Lucki meeting allegations. Then they shared a 136-page set of notes with journalists under embargo. So: who decided to withold the 4 pages, and why? Answers please!.
ICYMI: Either the RCMP commissioner has to go, or Trudeau and Blair do. By @stphnmaher.

Winter protests in Ottawa and Alberta cost RCMP millions. DETAILS:.
So, yeah, obviously pushing the RCMP to release evidentiary information that could jeopardize an active investigation in order to bolster a nonsense gun reform law is bad. But is it worse than the SNC scandal? Did the Liberals pay for that?.
James Manson
@JustinTrudeau @Kigali_Memorial Why are you incapable of telling the truth? Why are you incapable of treating Canadians with basic respect? Why did you flee the country instead of answering questions about the RCMP scandal? Why should anyone ever trust you? #cdnpoli.
Norman Spector
"If [Sgt] Campbell is right, the government needs to account for it and she [Lucki] needs to account for having gone along with it. If what Campbell is saying is true, she needs a good swift kick out the door.".
Norman Spector
MPs will hold a hearing next month into allegations that RCMP Commissioner Brenda Lucki, at the request of the Liberal government, tried to put pressure on Mounties investigating the Nova Scotia mass shooting to help advance Ottawa's gun-control agenda." #cdnpoli.

Liberals say faith in RCMP commissioner remains strong, deny political interference in mass-shooting probe.
Sunshiny
@TheJasonPugh @BlaineFCalkins What many don't realize, because MSM is non functional, is that police are refusing to put themselves in harms way across the board. The federal government and Commissioner Lucki JUST reconfirmed the RCMP internal policy and mandate: to protect the public and keep the peace..
Norman Spector
Lucki stated, based on Campbell's notes, that "she had promised the Minister and PMO" the RCMP would release this has not denied that she made that request on orders from the Liberal #cdnpoli.
Lyall 🇨🇦Candidate for Prime Minister of Canada
@204queen0574 @RyanSarai1 When the EA was invoked, they were going on information from deep sources CSIS, RCMP and American inelegance. The government wont let out the undercover work and the methodologies to the public because its ongoing. Its telling the mouse how to get the cheese from the trap..
Steven Dollansky 🇺🇦
Really makes you wonder how many other RCMP investigations are being influenced by Liberal ministers..
Tim Pettit
Trudeau used massacre for political agenda inquiry evidence shows | Toronto Sun.
Rob
@GlobalNational RCMP Commissioner Brenda Lucki tried to 'jeopardize' mass murder investigation to advance Trudeau's gun control headline should read like this.
Rob
@CTVCalgary RCMP Commissioner Brenda Lucki tried to 'jeopardize' mass murder investigation to advance Trudeau's gun control is the headline.
FalbalaLagauloise
Hein? Ct arrangé dans le but de controller les armes?? Lol jaurais jamais cru! 😏 Lol un peu comme le chaos des passports genre? #pattern.
Dave
@Hershel_Lives In NS there was a female rcmp officer that was about to blow the lid off of a money laundering operation,that the cops were involved in. She was the number one target!.
Grace_Too
@MariekeWalsh Why did victim's families have to beg for inquiry? Now we know just how corrupt & inept government & RCMP are..
Last=time
@ColinCarrieCPC The once renowned RCMP has turned into a Liberal Government baby sitter..