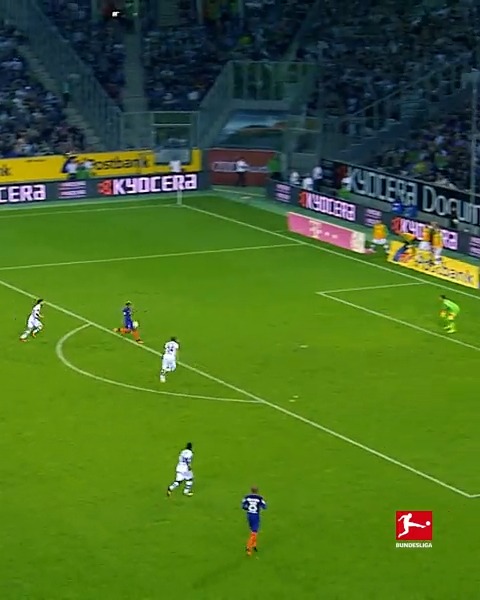 Serge Gnabry had a blast at Bremen. 💚💥 This volley was #OnThisDay in 2016! 📅.
🕺 This finish from Serge Gnabry 🤤 🇩🇪 Who will be the difference maker for Germany tonight? #NationsLeague | @DFB_Team.
🗣️ "If I can stop Gnabry or Sané in one vs one and hold myself well, then I know I can get to that level." Milos Kerkez told me before the game for @scoutedftbl. Gnabry, who was playing against him on the left side, was subbed off at half-time. Challenge succeeded. 🫡.
Bayern & Football
🔴 Serge Gnabry for Bayern: 🏟 182 games ⚽️ 67 goals 🎯 43 assists 🇩🇪 Serge Gnabry for Germany: 🏟 35 games ⚽️ 20 goals 🎯 8 assists.
Bayern & Football
Most goals for Bayern (active players): 🥇 Müller: 228 🥈 GNABRY: 67 🥉 Coman: 50 Most goals for Germany (active players): 🥇 Müller: 44 in 116 games 🥈 Werner: 24 in 54 games 🥉 GNABRY: 20 in 34 games.
Deniz
We could have robbed Arsenal of 40-50m for Gnabry had they qualified for CL football. Gnabry would have definitely joined them. Instead we gave him a contract until 2026 and made him one of our top earners I wanna throw up 😭😭😭.
Deniz
Gnabry's downfall is the saddest I've seen in a long time. In 2020/21 I thought he was just having a bad season. In the 2nd half of 2021/22 I was 70% convinced he's finished. It's 2022/23 now and I'm 99% convinced he's dusted. Hopefully he proves me wrong but I doubt it.
Bayern & Football
I haven't lost all my faith in Gnabry though. He has 3 goals & 4 assists for Bayern this season so it's not even bad. Almost every player is playing poor recently but I don't see them getting blamed..
$hemsi 🇩🇪 🇦🇱
Honestly I wouldn't even take Gnabry to the World Cup. He's an average Bundesliga player. He offers nothing..
$hemsi 🇩🇪 🇦🇱
We are currently in the worst period of the 🇩🇪 national team EVER. Let that sink in… As soon as the generation Boateng/Hummels/Schweini/Khedira/Özil etc left and Kimmich/Goretzka/Sane/Gnabry etc took over..
Deniz
I'm not watching the game but I just know Serge Gnabry has been the worst player on the pitch. Either him or Timo Werner. They're both anti footballers. At least Gnabry is good every 10 games but Werner is genuinely the worst German player I've seen in my lifetime.
FC Bayern Fan Indonesia
Hansi Flick dikasih Sane dan Gnabry di timnas Jerman juga mandul. Yang artinya.
Deniz
Brazil coach would get shredded for playing a front 3 of Müller, Gnabry, Werner. None of them have any skills on the ball 😭😭.
Schädelbasisbrecher
Gnabry hat rr um sein Leben für die Vertragsverlängerung gekämpft um seitdem wie ein arschgefickter hurensohn zu spielen.
Fabi.fcb
@DFB_Team Kein Wunder wenn man gnabry und Werner spielen lässt musiala und nmecha gegen England.
Deniz
Gnabry might be finished once and for all. I finally had hope for him again when he delivered 2-3 good games at the beginning of the season. Just a fluke. Gnabry is nothing but an average Bundesliga player since August 2020. He can't do anything. He's genuinely terrible.
Es könnte bald zu fatalen Konsequenzen für den Bayern-Star kommen! 🤯.
Deniz
Dfkm he brought on Kehrer for Gnabry now 😭😭 my brother in christ you need ATTACKERS not defenders.
Mikel
The fact that half those playing rn in that Sidemen game are playing better than Gnabry, Müller and Kimmich these past few weeks speaks volumes why footballers are massively MASSIVELY.
Fabi.fcb
@wannabethats0ng @DFB_Team Hdf digga bei bayern konnten die alle wenigstens fussball spielen Werner kann kein Ball annehmen genau wie gnabry und müller aktuell.
Hassan
Gnabry and Müller are both terrible and need to be dropped from Germany and Bayern's squad until they wake up, no one is ready for that conversation though especially with Müller.
LS10🥶 Sané FC
Dass Sané gleich bewertet wird wie Gnabry oder Werner ist auch wieder kriminell.
Get German Football News
PLAYER RATINGS | Germany 0-1 Hungary -> Leroy Sané - 6 -> Timo Werner - 4 -> Serge Gnabry - 4.
Schädelbasisbrecher
Ich finde es ist eine sehr nette Geste dass gnabry auf dem Rücken die Anzahl an fürchterlichen first touches trägt.
#ZidaneIN
I've said it since over 2 years Gnabry is shit and always will be but no one wanted to listen and now you have it.
🔴⚪️ Tobi 🔴⚪️
Serge #Gnabry verfügt über ein unfassbares fußballerisches Potential. Er hat alles um in die absolute Weltspitze zu kommen, außer Konstanz in seinen Leistungen. Zu selten ist er ein Unterschiedsspieler, zu oft ein Mitläufer. Eigentlich schade. #FCBayern.
Pedro
Musiala auf der Bank, aber Gnabry und Werner dürfen von Beginn an spielen. Leistungsprinzip wieder perfekt. 🙃 #GERHUN.
Zrpmmm
gracias jesusito por dejarme ver a gnabry y muller y sane y al antivax de kimmich y a timo.
H
@iMiaSanMia Try goretzka at st idolo. He cant be worse than werner or gnabry. And he can press, head the ball and has a physical presence..
Μαξιμιλιανός 🇦🇲
Kimmich gnabry muller and co run around like they win the CL every year in their head. Drop bench and sell..