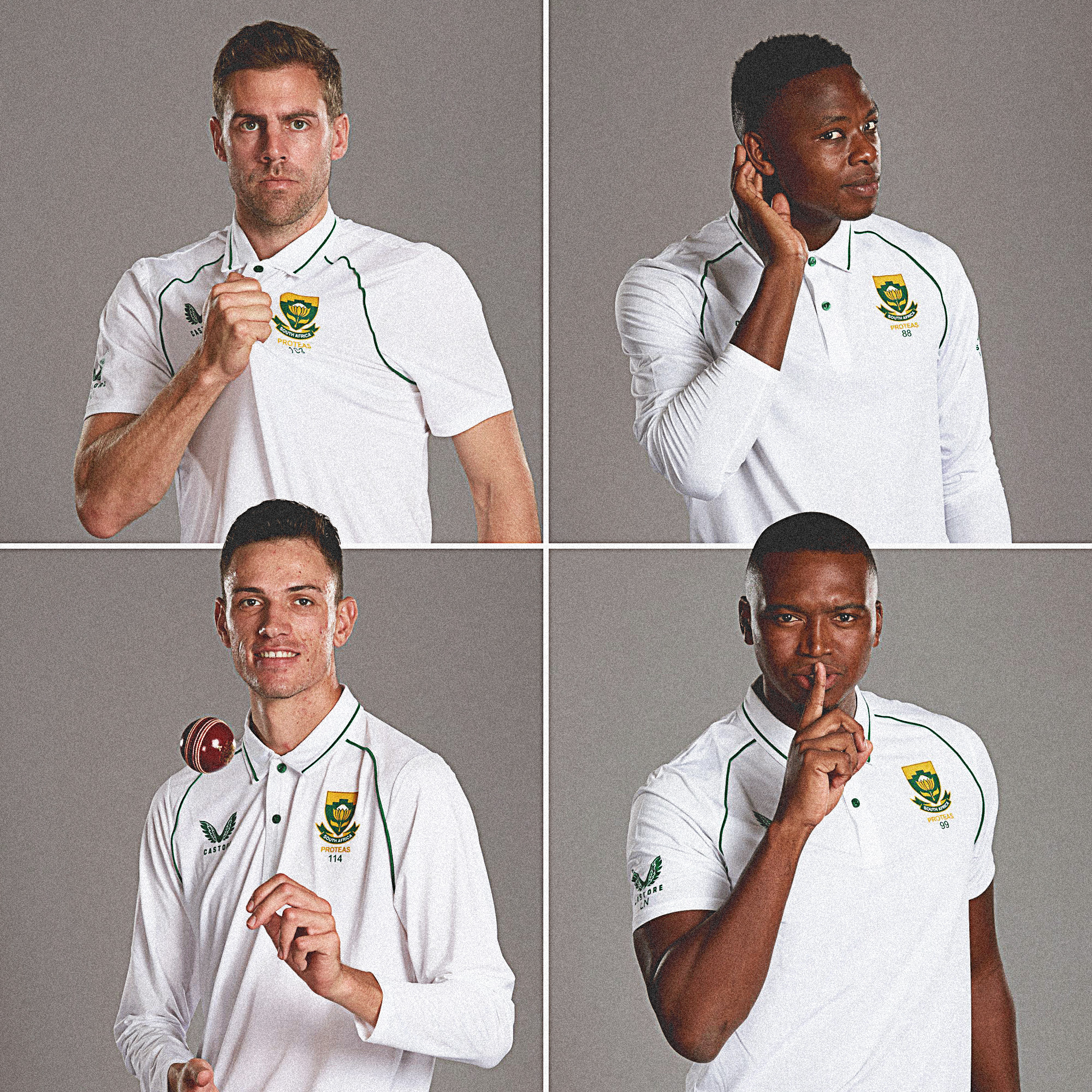 Awesome build up, love the banter between teams✅. 'Bazball', ✅Serious bowling ✅ Bring on day #ENGvSA 🏴󠁧󠁢󠁥󠁮󠁧󠁿🇿🇦.
Dan Weston
Interesting discussions on 'Bazball' after today, inc one media piece discussing its 'flaws'. No strategy is flawless. It can & will go wrong sometimes. I advocate intent merchant style in T20 but am aware of its risks - the key is to have the risk/reward ratio on your side..
England 110-5 What happened to all that BazBall cricket and the crazy runs they said they were going to put on..
Kri
@CricCrazyJohns Bazball against this gonna be fun.
Sophia
Only Alex Lees got out to Bazball, Root got out to Menon-ball, and everybody else got out to good balls. Amongst all this, Pope has been mighty impressive #ENGvSA.
South Africa have a wonderful bowling attack, which will make England's adventurous batting approach riskier this series. South Africa got more new ball movement than any attack England have faced all summer - and there was plenty of pace and variety.
Jon H
In a recent interview, Zak Crawley said it's nice under BazBall to not be constantly looking over your shoulder, but I've noticed that Alex Lees is still looking over his shoulder before every ball. Double standard?.
ZuNair🇵🇰
BazBall effect is really seen in the 3rd and 4th inning. Englan is playing extraordinary especially in the 4th innings. This is a pattern over this year in test cricket. They are more dangerous in the last 2 innings #ENGvSA.
JACk.
@bbctms @BBCSounds Not too surprising. 100/5 is a pretty standard score for BazBall. Usually England come back in either the same innings or the other innings of the match with an improved score. England's seamers in these humid conditions will provide a very strong challenge for South Africa..
Dylan King
@sgowsmith1988 Me when Root was dismissed cheaply in the second test ENG v NZ 2022, second innings. (Bazball wasn't over).
C. S Chiwanza
In the run up to the Test series, English journos played buzzball. Now the English Test side is playing Bazball. I will see myself out..
Tyron Azevedo
@watsenaam It's funny, SA not ready for Bazball. England 116-6 then "bowling conditions". 😂 love it.
Arun B
@TheBarmyArmy Little bit of cloud and put to bat first , BazBall lost its balls 🤣🤣.
Scott Berrie
@madjockopite @GeoffreyBoycott Let him do that and the others play bazball round him!.
Tom Evans
Looking forward to it raining for the rest of the day and the only take being that losing an opener to the new ball means Bazball is dead..
Rivaan
@lilyffranklin13 BazBall been terrible in most first innings. But yes the demise has started..
Martyn Lawrence
@AJPhillyEagle I know the media like this bazball thing, fun to watch for sure but will it work?.
Jatin Khandelwal
@cricket_broken SA cancelled the Bazball by asking England to bat first!!😅 unless of course, if SA are forced a follow-on (looks incredibly unlikely though atm)...
Adam Evans
Heartening to see that 'Bazball' may also depend occasionally on helpful interventions from the British weather #ENGvSA.
Avishek Ghosh
@sawerapasha We all said these things in the first inns of each of the last 4 tests. Bazball always was decisive in the second inns.
Darrel Bristow-Bovey
@marktz10 @The_Kylo Agreed - I get the impression that their confidence is a rickety one, and for somenof them, they have bought into BazBall because it gives them an excuse if they fail..
Tappa
You just know Elgar is gonna smash a quick-fire century and whilst claiming he's not bothered about the "baz-ball" style of play, remind the English media that that's how you play baz-ball #ENGvSA #BazBall.
Tim
@cricollie @tomrigby If Bazball's gonna work, it has to work when you have to bat first as well.
Laksh Sharma
@harsh__1437 Mujhe England ke bazball ka mazak bhi udana hai lekin wo jeetege tabhi fayda hoga😭.
DESI
@MSauleh17 This guy low key wants SA to get whipped because India lost against England through bazball 🤭.
Gay Shah 😎😎
@RockstarMK11 BAZBALL is the term used for eng test team , from the day Brendon McCullum ( Baz ) had become coach of England test team.
Sophia
@faria_yeas_chy Yeah this is a shame given how many promising middle order batters we have but not as many in the openers department, and rhe openers we have may not suit bazball.
Mr.Henderson™
Bazball um Punda ball um Test ku undana mariyadhaye pochu indha Home Track Cloud Bullies naala.

AK
@WisdenCricket BAZBALL starts when the ball gets old and doesn't do anything 🤣🤣.
Het Patel
As a Test Cricket fan I want South Africa to break the vanity of English #BazBall approach coincidently, as a Indian fan I want England to dominate South Africa in this series.🤷‍♂️.