US offers Slovakia a dozen new military helicopters as compensation for supplying Ukraine with a fleet of jets.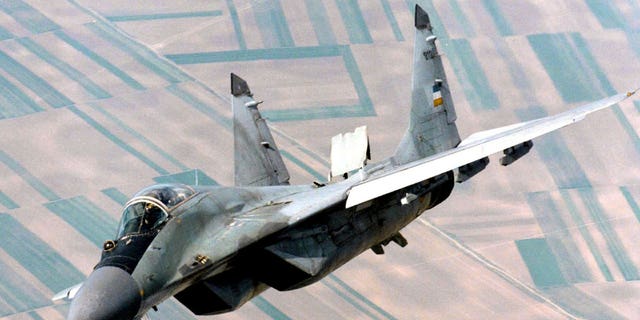 The United States has offered Slovakia 12 new military helicopters as compensation for the MiG-29 fighter jets the European country is giving to Ukraine, Slovakias defense minister said Wednesday.
Under the offer, Slovakia would pay $340 million for the Bell AH-1Z attack choppers in a deal worth about $1 billion that also includes 500 AGM-114 Hellfire II missiles and training, Defense Minister Jaroslav Nad said.
U.S. foreign military financing would cover the other $660 million, he said. The European Union also would send Slovakia $213 million in additional compensation, Nad said.
A Yugoslav airforce Mig-29 fighter flies over Belgrade in June 1998. Slovakia was offered 12 new military helicopters by the United States as compensation for the MiG-29 fighter jets the country decided to give to Ukraine. (AP PHOTO/Sasa Radic)
Nad said his country's armed forces currently don't have any combat helicopters and that the deal would "significantly increase the defense capability of Slovakia."
On Friday, the Slovak government approved a plan to give Ukraine its fleet of 13 Soviet-era MiG-29 fighter jets, becoming the second NATO member country to heed the Ukrainian government's pleas for warplanes to help defend against Russia's invasion.
Slovakia grounded its MiGs in the summer due to a lack of spare parts and expertise to help maintain them. Fellow NATO members Poland and the Czech Republic stepped in to monitor Slovak air space.
Slovakia previously signed a deal to buy 14 U.S. F-16 Block 70/72 fighter jets, but delivery was pushed back two years with the first aircraft to arrive in early 2024.