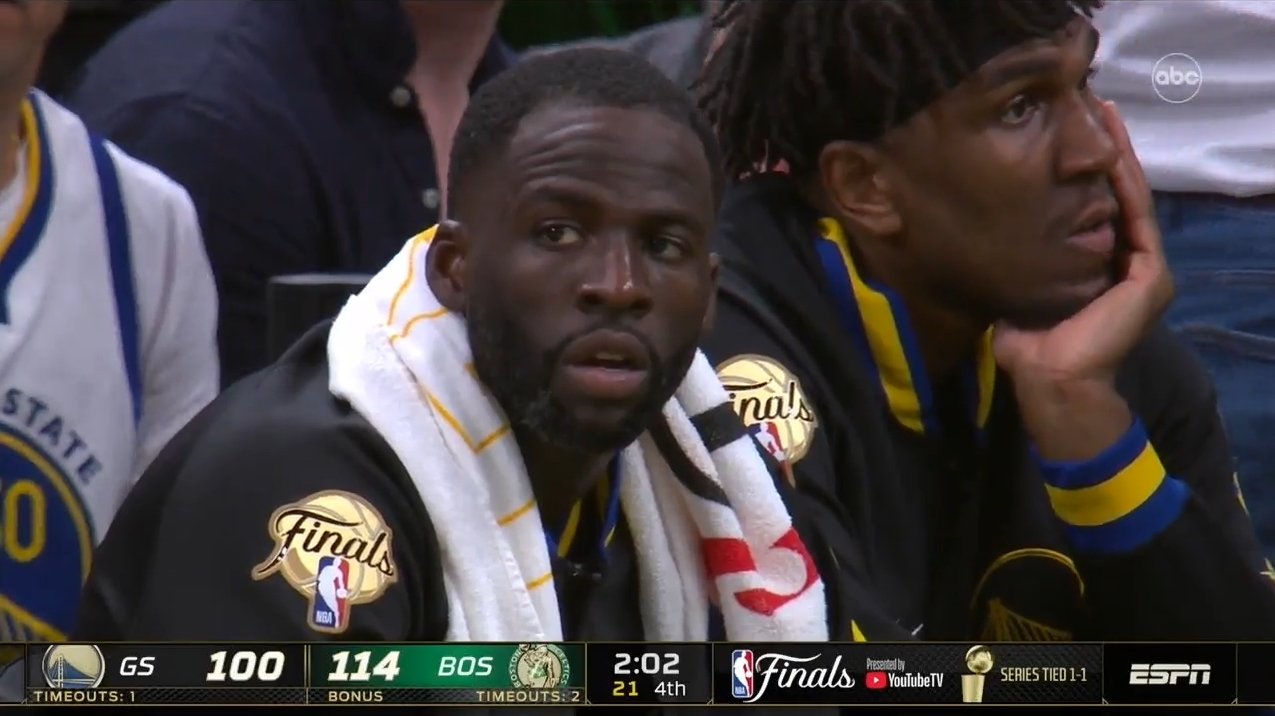 The Splash Bros. are Game 3 ready 💦 #PhantomCam #DubNation Game 3 tips off next on ABC.
A flurry by Stephen Curry to end the 1st half! #DubNation 2nd half starts now on ABC.
Dub Nation BR
ENFIARAM O JOGO NO CU 👏🏼👏🏼👏🏼👏🏼👏🏼👏🏼👏🏼👏🏼👏🏼👏🏼👏🏼👏🏼👏🏼👏🏼👏🏼👏🏼👏🏼👏🏼👏🏼👏🏼.

Klay Thompson was NOT a fan of the Boston crowd tonight 😳 🎥: @NBCSWarriors | #DubNation.
WarriorsMuse
Random Question #DubNation, who do you think has been the second-best player for the dubs in these finals?.
Golden State Warriors Brasil
2022 NBA WORLD CHAMPIONS GOLDEN STATE WARRIORS. A DINASTIA (AINDA) NÃO ACABOU. #GoldBlooded #DubNation.
Pretty shocking how so many members of #DubNation are overreacting to one game. Kerr blew it by playing GPII only 11 min, Iggy only 2 min & Beli only 3 min. Depth is the @warriors biggest strength & they didn't utilize it. Early fouls panicked Kerr. Adjustments will be made..
Sixers Deprê
Todo esse papo de FMVP do Curry é unicamente zoação vazia, caras. Tô falando isso principalmente pra DubNation, vocês sabem que o melhor desse time sempre foi ele e ninguém mais duvida da capacidade desse cara, ele é um top 10 de todos os tempos. Relaxem..
🇧🇷 Warriors - Kleber 
Segundo Anthony Slater, Curry saiu da entrevista mancando e fazendo caretas de dor. É torcer pra que ele esteja bem, pq ele não vai aceitar ficar de fora. Steph fora é certeza de uma perda da série. #DubNation.
The Bay BR
Draymond Green sobre o jogo 4: Estaremos melhores. Eu serei melhor. #DubNation.
This is quite possibly the loudest sporting event I've ever been to. Celtics fans are absolutely bringing it. @kron4news #dubnation #goldblooded.
Warriors Stats Info.
12 turnovers do Boston sendo 6 roubos de bolas do Warriors Defense 🔒 #DubNation #GoldBlooded.
Viziball
Stephen Curry en feu 🔥 43 PTS | 10 REB | 54% FG | 7/14 3PTS ➡️ 20% PIE ➡️ +11 (+/-) #DubNation.
قولدن ستيت واريرز
كلاي تومبسون عن فوز ستيف كوري بأول جائزة Finals MVP : هنالك أغبياء قالوا أنه يحتاج للفوز بهذه الجائزة 🤣 #DubNation.
🇧🇷 Warriors - Kleber 
Draymond Green sobre a multidão de Boston: "Eles estão apenas falando. Não é realmente meu trabalho reagir a eles. Fizeram o que eu esperava." #DubNation.
Lychee
#DubNation ウォリアーズあと一勝‼️ ウィギンス活躍してくれてうれしい〜😃.
 NBA Stats France 🇫🇷
❌ #NBA75 | Depuis la fusion entre ABA et NBA (𝟏𝟗𝟕𝟔-𝟕𝟕), ces joueurs totalisent le + de matchs avec 𝟔 fautes, sur une série de Finals. ▪ 𝟑 — Jack Sikma (1978) ▪ 𝟑 — Dale Davis (2000) ▪ 𝟑 — Draymond Green 📌 #DubNation.
 NBA Stats France 🇫🇷
⏳ #NBA75 | Les + vieux joueurs à inscrire 𝟒𝟎+ points lors des Finals. ▪ 𝟑𝟓 ans et 𝟐𝟖𝟒 jours — LeBron James (2020) ▪ 𝟑𝟓 ans et 𝟏𝟏𝟕 jours — Michael Jordan (1998) ▪ 𝟑𝟒 ans et 𝟖𝟖 jours — Stephen Curry 📌 #DubNation.
🇧🇷 Warriors - Kleber 
Klay Thompson foi perguntado onde ele classifica o jogo de hoje de Steph curry e ele disse: Provavelmente o número um, esse foi praticamente um jogo obrigatório. #DubNation.
SportzStew Ⓥ
@warriors Scott Foster watching this game #DubNation #GoldBlooded.
CCS YT
Rip #DubNation #GoldBlooded this dude was a fucking prophet. We will be back next year with wiseman.
😎AK #MI💙😎
STEPH single-handedly almost outscored both Tatum and Brown #DubNation.
Matt Joanes
@warriors have been down 2-1 in the #NBAFinals before and had it turn out pretty well… never count out #DubNation.
Pedro finalista (2-1)
@THCeltics a dubnation é a pior torcida do twitter disparado os caras são abubelele da cuca.
Curryneta (1-2)
Buenas noches, les dejo las mejores fotos del partido de hoy de nuestro mejor guerrero. #DubNation.
PickAndGol🏀⚽
Boston Celtics derrotó 116-100 a Golden State Warriors en el tercer partido de las finales. #AllAbout18 tuvo un tridente notable, Smart, Tatum y Brown se combinaron para convertir 77 puntos. Del lado de #DubNation, Stephen Curry metió 31 puntos..
Darryl Mae Dasmariñas
Absolutely Seth Curry For Being Supportive Watching His Brother Steph Curry And Dubnation!!! Lets Go Next Warriors!!! 💙💛🤘.
Gezahegne Desta
We come back what ever happened we come back #DubNation.
Will2000,SF,4LIFE
If there is ever a time when SC#30s greatness is questioned it should end right now this photo screams 🐐🐐🐐🐐🐐🐐🐐!!!!!#DubNation.
Cebyy♟ #DubNation
If we win that Game on Monday we will have a Game 6 Klay to end the Series 🤯 #dubnation #Game6Klay.